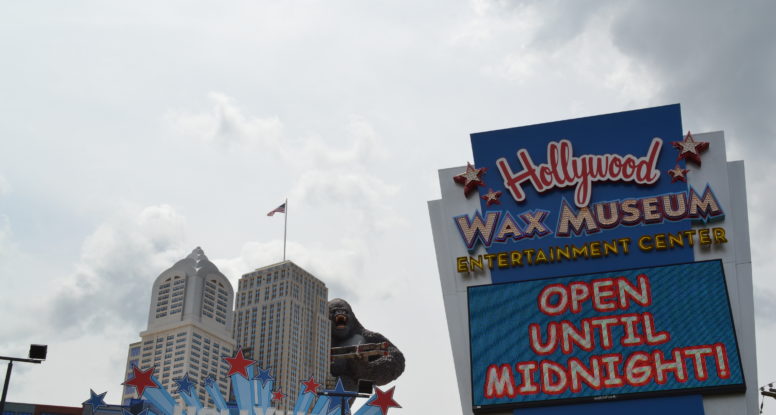 6 Fascinating Museums in Pigeon Forge and Gatlinburg You Need to Visit
When you spend a vacation with us, you are just minutes away from some of the most fascinating museums in the country! These are not your typical museums where the kids will be bored in minutes. These are fun, unique, and interactive Gatlinburg and Pigeon Forge museums that will appeal to family members of all ages! Here are 6 fascinating museums in Pigeon Forge and Gatlinburg you need to visit:
1. Alcatraz East Crime Museum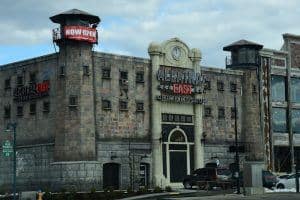 The Alcatraz East Crime Museum offers a glimpse into American crime history with 5 unique galleries to explore! As you browse through the museum, you will discover 2 floors filled with more than 100 interactive exhibits. This is your chance to learn more about crime fighting or how to solve a crime with the use of forensic science! The Alcatraz East Crime Museum also contains many incredible artifacts too, including Ted Bundy's VW Bug and the White Ford Bronco that carried a frantic O.J. Simpson during the famous televised police chase.
2. Hollywood Wax Museum
Another one of the fascinating museums in Pigeon Forge and Gatlinburg you need to visit is the Hollywood Wax Museum. This awesome museum features wax figures of all your favorite celebrities, ranging from classic movie stars to the hottest A-list celebrities of today. The best part is you are allowed to take as many photos as you want, so get up close and personal with your favorite movie star as you strike a pose! This is one of the best Pigeon Forge museums to visit if you love pop culture and all-things Hollywood.
3. Titanic Museum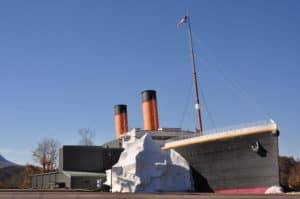 The Titanic Museum welcomes you aboard for a journey through a re-creation of the world's most famous luxury liner! Experience what it was like to walk the hallways, parlors, cabins, and grand staircase of the Titanic while surrounded by more than 400 artifacts directly from the ship and its passengers. Many of these personal and private artifacts are on display for the first time in the world, so take your time as you stroll through the self guided tour.
4. Salt and Pepper Shaker Museum
One of the most unusual museums in Pigeon Forge and Gatlinburg is certainly the Salt and Pepper Shaker Museum, where you will find a collection of more than 20,000 shakers from around the world! The museum not only shows the variety and creativity that can be found in salt and pepper shakers, but how the changes in society can be found represented in shakers. The nominal admission fee makes it one of the best bargains in the Smokies, and you can apply the admission price to a purchase in the gift shop!
5. Ripley's Believe It or Not! Odditorium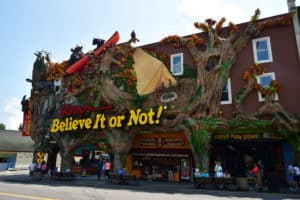 Ripley's Believe It or Not! Odditorium contains over 500 unusual artifacts and oddities from around the globe, including everything from authentic shrunken heads to cannibal skulls. The museum also presents a variety of mind-boggling visual illusions and exotic primitive items among the 16 themed galleries. This is certainly the weirdest place in Gatlinburg so don't miss this museum if you enjoy quirky attractions!
6. Hollywood Star Cars Museum
The Hollywood Star Cars Museum offers a tour through cinema and television history with some of the most famous vehicles of all time, including the Batmobile from the original 1966 television show! All of the cars are featured in recreated settings with sound, lights, and action, and the collection is always expanding as new cars are added! Some of the vehicles that you can expect to see include the General Lee from the Dukes of Hazzard, the Back to the Future DeLorean Time Machine, and the Days of Thunder Mellow Yellow race car!
Where to Stay Near Gatlinburg and Pigeon Forge Museums
Are you looking for the perfect place to stay near off of these awesome Gatlinburg and Pigeon Forge museums? Look no further than our cabin rentals! Our cabins are set in the beautiful and peaceful Wears Valley, making it easy to enjoy a relaxing stay that's still just a short drive from all the fun. Check out all of our cabins in the Smoky Mountains today to stay close to these fascinating museums in Pigeon Forge and Gatlinburg! We look forward to seeing you soon!