Top 4 Reasons Outdoor Enthusiasts Love Staying at Our Cabins in Wears Valley TN
If you are a fan of the great outdoors, there is no better place to stay than at Hearthside at the Preserve! Our beautiful resort is considered the highest elevated resort in the Smoky Mountains and offers breathtaking panoramic views for miles! Here are the top 4 reasons why outdoor enthusiasts love staying at our cabins in Wears Valley TN:
1. Peaceful Location Among the Mountains
All of the cabins at Hearthside at the Preserve are situated in a lovely location where you can enjoy the peaceful sounds of nature! You will truly feel like you are on the top of the world as soon as you arrive, with magnificent views that stretch from the top of Bluff Mountain to the other side of Cove Mountain in Wears Valley. Enjoy the beautiful scenery from virtually anywhere in your cabin, including from the bubbling hot tub on your private deck! Another fantastic place to relax outdoors is at our open air outdoor pavilion, where you can kick back by the fireplace while hanging out with your family and friends.
2. Close to Hiking Options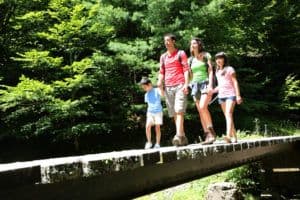 One of the best things about our cabins in Wears Valley TN is that despite being tucked away on the top of a mountain, they are still just minutes from all of the excellent hiking opportunities in the Smokies! Outdoor enthusiasts are delighted to find that the Great Smoky Mountains National Park is just minutes away, which offers hundreds of scenic trails for all skill levels. If you have a family with small children and are looking for an easy hike, check out the Metcalf Bottoms hiking trail that runs for 1.2 miles roundtrip from the Metcalf Bottoms picnic area to the Little Greenbrier School. For something a little more difficult, visit Ace Gap near Wears Valley for an 11 mile hike that features an elevation gain of 400 feet.
3. Excellent Resort Facilities
Another reason why outdoor enthusiasts love staying at Hearthside at the Preserve is because we offer excellent facilities for our guests! If rain or other inclement weather has spoiled your hiking plans for the day, enjoy some exercise in our newly remodeled fitness facility with treadmills, free weights and other modern exercise equipment. Our resort also features a sauna and steam room that feels fantastic after your workout! If you happen to be staying with us during the warmer months of the year, you can also take advantage of our heated outdoor swimming pool!
4. Amazing Cabin Amenities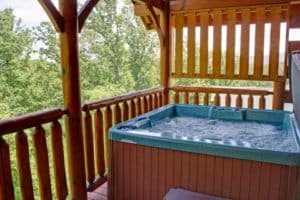 When spending your vacation at our cabins in Wears Valley TN, you will love all of the wonderful amenities that are included with your stay! Our cabins include a fully equipped kitchen so that you can easily prepare meals, as well as outdoor grills when you are in the mood for a cookout. Each cabin also has a fireplace, laundry facilities, cable television and free wireless internet access so that you can keep in touch with your family and friends back home!
Check out all of our cabins in Wears Valley TN today to plan your vacation to the Great Smoky Mountains! We look forward to seeing you soon at Hearthside at the Preserve!