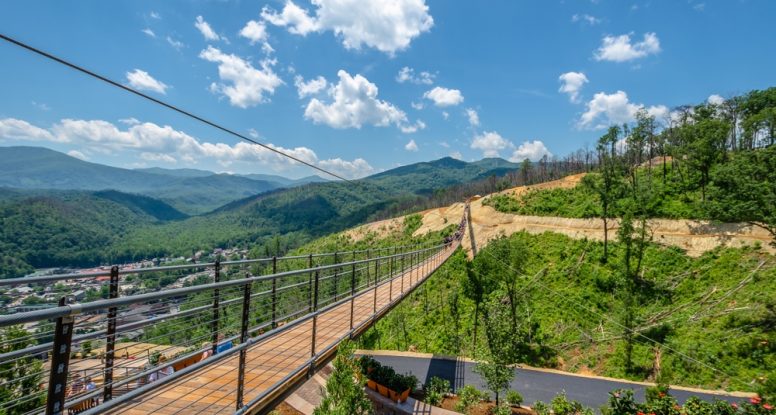 4 Things to Know About the Pink Jeep Tours of the Gatlinburg SkyBridge
One of the most exciting Smoky Mountain attractions is the Gatlinburg SkyBridge, a magnificent structure that is the longest pedestrian suspension bridge in North America! While you can visit this attraction at Gatlinburg SkyLift Park on your own, the best way to experience the SkyBridge is on a guided tour with Pink Jeep Tours! Here are 4 things to know about the Pink Jeep Tours of the Gatlinburg SkyBridge:
1. What to Expect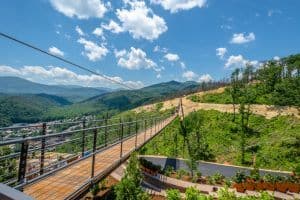 The Pink Jeep Tours of the Gatlinburg SkyBridge are the only personally guided SkyBridge tours in the Smokies! During your journey, you will not only have direct VIP access to the bridge, but you'll also get to hear fascinating stories of Gatlinburg as you overlook the famous town! The tours depart from Pigeon Forge, where you hop into a Pink Jeep with your professional guide and set off for your excursion! The Gatlinburg SkyBridge stretches 680 feet across a deep valley in a single span, and the midpoint of the bridge rises 140 feet of the valley! After experiencing the SkyBridge, you will enjoy a fun off road adventure on a trail through private land with your expertly trained driver behind the wheel! This is one tour you won't want to miss during your vacation in the Smoky Mountains!
2. Times, Dates, and Location
All of the Pink Jeep Tours depart from their convenient location at 3152 Parkway in Pigeon Forge, which is just a short drive away from Hearthside at the Preserve! There are multiple tour times available daily, making it easy to work a tour into your busy vacation schedule. Simply choose a tour time and make your reservation in advance to get your preferred time and date. Keep in mind you will need to check in 20 minutes prior to your tour time and all tours operate rain or shine.
3. Tour Guide Information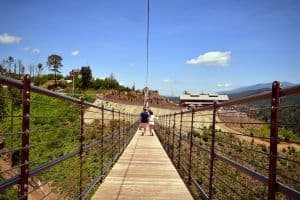 Your tour guide on the Pink Jeep Tour of the Gatlinburg SkyBridge is also your driver, and you are always in good hands! All guides are CPR certified, Smith System Driver Safety trained, and First Aid certified, and most of the guides are also Certified Interpretive Guides! Therefore, you can enjoy a fun, safe, and educational experience throughout your tour!
4. What to Bring
Depending upon the time of year, you may want to bring a hat, sunscreen, or layered clothing. While the Pink Jeeps are heated, it might be chilly when you are walking across the Gatlinburg SkyBridge! You should bring along some rain gear due to the frequent rainy conditions in the Smoky Mountains. Bring a bottle of water too, which can be replenished with extra water when the Jeep is stopped. Most importantly, don't forget to bring you camera to capture the most spectacular views in the Smokies!
You'll have a blast going on the Pink Jeep Tour to see the Gatlinburg SkyBridge. Since you have an idea of what you're going to do when you're here, now you just need a cabin! Check out all of our Smoky Mountain cabin rentals today.