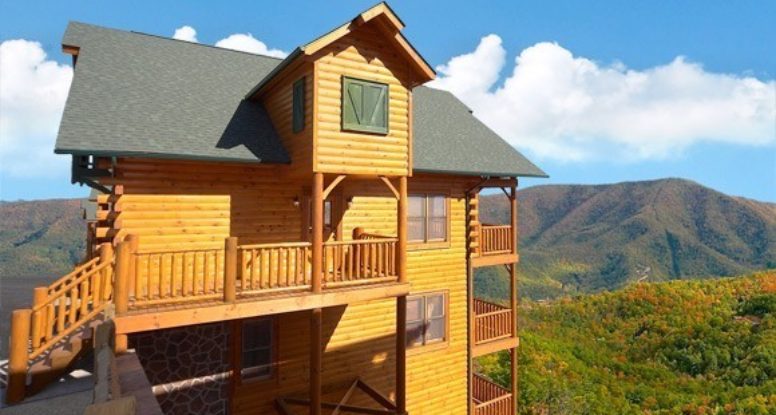 Top 4 Ways to Enjoy Your Stay at Our Wears Valley TN Cabin Rentals
To help you prepare for your upcoming vacation to our Wears Valley TN cabin rentals, we've put together a list of our 4 favorite ways to enjoy our cabins and our beautiful mountain surroundings! From hiking and shopping to relaxing to the max, we have something fun for everyone!
1. Enjoy the Views from Your Cabin
One of our favorite ways to enjoy our Wears Valley TN cabin rentals is to spend the weekend taking in the mountain views from the privacy of your cozy cabin. Winter, spring, summer and fall are all beautiful times to visit the Smokies, and you'll experience breathtaking views in any season! Not to mention, we are considered the highest elevated resort in the Smoky Mountains, so our views are the best in the area! From waking up and enjoying the morning sun rising over the mountains from your cabin's private deck to discovering constellations in the clear night sky while soaking in your secluded hot tub, your whole day will be filled with breathtaking scenery like you've never seen before.
2. Invite Friends for a Cookout in the Pavilion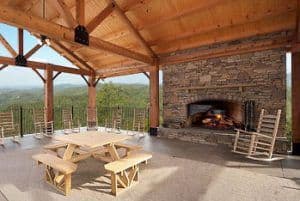 When you stay at our Wears Valley TN cabin rentals, you'll have access to our large outdoor pavilion, perfect for cookouts with family and friends! Our pavilion is equipped with picnic tables and benches, as well as lots of comfortable rocking chairs and a large fireplace, making it a wonderful place to gather in any season! Whether you're simply vacationing with family or you're planning something more elaborate like a reunion or a retreat, there's no better place in the Smoky Mountains to have a wonderful weekend away.
If you're planning your wedding and considering the Smokies for your big day, we have a quaint, white wedding chapel that overlooks miles of beautiful, rolling hills. This chapel, combined with our beautiful pavilion, is the perfect location for a wedding day that you'll never forget! Check out the Chapel at the Preserve for more important wedding information!
3. Explore the City and Nature
One of the best aspects of our Wears Valley TN cabin rentals is that they are conveniently situated between Pigeon Forge TN and Townsend TN, which means you'll be close to all the fun of a city while also being nestled in a quiet and peaceful mountain setting. If you feel like getting out on the town for a day of shopping, eating out and exploring local attractions like Dollywood and Ripley's Aquarium, you're only a short drive from the bustling city of Pigeon Forge TN. But if you're more in the mood for a day of tubing down the river or hiking the trails, you're also close to all the fun that the great outdoors have to offer! Staying in our cabins is absolutely the best of both worlds.
4. Pamper Yourself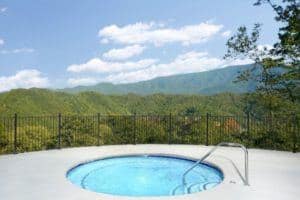 An important part of any vacation is taking the time to relax and pamper yourself, and our Wears Valley TN cabin rentals make it easy to give yourself the attention you deserve! If you enjoy working out, we have a newly remodeled exercise facility that has all the equipment you need to get a full body workout. After your workout, head to our sauna or our steam room to enjoy some much needed heat therapy. We also have a heated outdoor pool, which you'll love whether it's warm or cool outside, and don't forget to take a dip in our in-ground hot tub! A weekend at our resort will leave you feeling refreshed and rejuvenated.
Don't wait! Book your stay at our Wears Valley TN cabin rentals today, and get ready for the Smoky Mountain vacation of your dreams!